Another piece to the puzzle that is e-Procurement and Punchout Catalogs are units of measure or UOM. Units of measure are used by e-Procurement and Punchout Catalogs to identify the item being ordered. Common units of measure are EA for Each, BX for Box and CS for case. Depending the e-Procurement system your customer uses they have a different requirements. For example, many Oracle systems require "EACH" instead of "EA". Ariba systems very often do not have "UN" (Unit) as a unit of measure. Some customers may require a list of units of measure, which can be generated via the Greenwing Technology Punchout Catalog administrator.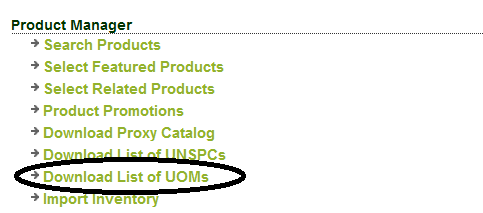 The unit of measure is returned to the e-Procurement system in the Punchout Catalog shopping cart order message and if you receive cXML Purchase Orders electronically will be part of the Purchase Order too. This helps identify if a customer ordered one case or one item if the product part number is the same for both types of packaging.
Some common units of measure used in e-Procurement systems:
BX – Box
CH – Container
CN – Can
CQ – Cartridge
CS – Case
CT – Carton
CY – Cubic Yard
EA – Each
FT – Foot
HR – Hour
IN – Inch
LF – Linear Foot
LN – Length
PC – Piece
PK – Pack
QT – Quart
SH – Sheet
TB – Tube
UN – Unit
To find out how to classify your items by units of measure, contact us today at 1-877-415-3237.