cXML (or Commerce XML) is an XML-based standard developed by the eProcurement industry in the late 1990's. It is a standardized version of XML that allows transactions to sent and received between a buyer and a seller's system. Many of cXML's standards are rooted in EDI including electronic purchase orders, invoices and advanced ship notices.
Many punchout catalogs use cXML as a standard of communication, although there are other communication methods such as OCI and xCBL.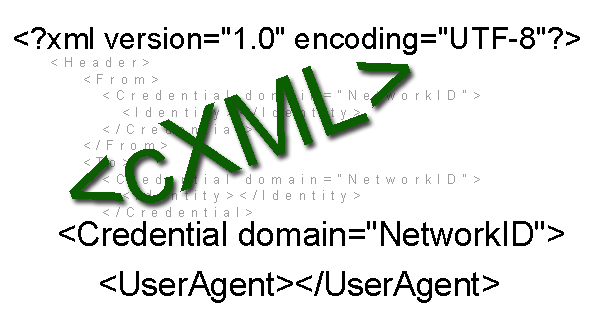 How does cXML work with a Punchout Catalog?
The first step in a Punchout transaction is the punchout setup request. The Punchout Setup Request is sent by the buyers procurement system and sent to the buyers gateway system that processes this request. The buyers gateway system accepts the request and validates the credentials and returns a URL to the procurement system that allows the buyer to login to the Punchout Catalog.
Now the buyer can shop in the Punchout Catalog, adding items to their shopping cart, retrieving a quote or adding items to their user favorites. When the buyer is ready to complete their order they click the checkout button in the Punchout Catalog and their shopping cart is transferred to the eProcurement system via cXML.
What happens now?
Now that the shopping cart (usually called a requisition in the procurement world) is in your buyers procurement system, there are a few things that can happen. The first step is that the request is sent for approval. Let's use a real world example to explain.
The facilities manager at Widgets Inc (John Smith) needs to order cleaning supplies from you (Cleaning Supplies Inc.). John logs into the eProcurement system at Widgets Inc and creates a shopping cart via your Punchout Catalog. Now the shopping cart is in the system, but John isn't allowed to approve the order himself so he waits for his manager (Steve Smith) to approve the requisition. Steve receives a notification that a new requisition is ready for approval, so he reviews the requisition and if necessary approves the requisition. Then a purchase order is generated and if Widgets Inc. supports electronic purchase orders the order is delivered to you by the eProcurement system via cXML, EDI or email. You now have a purchase order that you can act on. Your order fulfillment team ships the order to the buyer and now you are ready to send a shipment notification and an invoice.
If your buyer supports advanced ship notices via cXML or EDI as soon as your order is ready you can enter details and our system will electronically notify your buyer that the item has been shipped. The final step is the invoice, which if your buyer supports electronic invoices can also be sent via our Punchout Catalog administration system with one click. We will train your accounting team to use our administration system for invoicing of orders.
The full cycle of requisition -> purchase order -> advanced ship notice -> invoice has been completed.
If we make that sound simple, rest assured that it is that simple when you work with Greenwing Technology Punchout Catalogs. Contact us today at 1-877-415-3237 for a free consultation on how we can make Punchout catalogs for you.