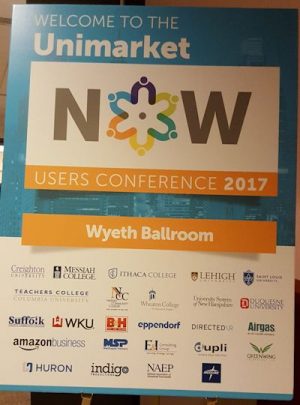 Unimarket NOW is always a popular conference with our team, even more popular this year with the conference being local to our team in Philadelphia, PA. The conference was held at the Sonesta Hotel in center city Philadelphia April 26-28, 2017.
The conference opened with welcoming statements from the Unimarket team as well the user group chair. Following the welcome statements was Stevie Ray, a highly sought after keynote speaker focusing on "waking up the brain" to allow better focus. We split into groups and performed numerous brain exercises and ice-breakers to get to know our fellow conference attendees. It was not the traditional keynote where we were "talked at" — instead we learned a lot from the interactive session. The keynote wrapped up with the five steps to persuasion to help bring about change in our respective organizations.
Following the keynote we heard from Vince Patriarco from E&I Consulting Group. Vince updated everyone on the trends in higher education procurement. It was incredibly helpful to see what is going on now and the anticipated trends coming in the future. After a quick break everyone boarded a shuttle to go to the Mask & Whig Club, a private club owned by University of Pennsylvania and used for theater production. The history of the club was fascinating being over one hundred years old. After dinner and drinks everyone headed back to the hotel to wrap up day one.
Day two started with a look back at lessons learned from the conference. We then heard from Kelli Fager from Huron Consulting about Uniform Guidance rules which dictate how federal grants are distributed and reported. The uniform guidance rules are changing very quickly and the universities need to stay up to date to stay in compliance. Following Kelli's talk we heard an update from the National Association of Educational Procurement (NAEP) that covered some trends in procurement in higher education and association updates. The NAEP update was followed by a few round table discussions that covered various parts of e-Procurement including contracts, supplier management, invoice automation, spend analytics and e-Procurement ROI.
The next topic was an interesting panel that included discussions about getting supplier buy-in with e-Procurement. The panel covered such topics as communicating with supplier sales reps, department users and how suppliers can leverage e-Procurement to solidify higher education customer relationships. The last session of the day was by Darren Blakely from Unimarket who talked about the invoice payment process with suppliers, where Unimarket is now and where it is going in the near future with payment automation.
Day three covered many new features that Unimarket has rolled out the previous twelve months and many features to be rolling out in the next year as well. Our team always enjoys the Unimarket NOW conference because of the time we get to interact with both Unimarket users and suppliers.